The guest house
Located on the village square plaisible of Hauterive, a few miles from Villeneuve-sur-Lot. Following the construction of the barn, in 1887, this property was used for agricultural purposes. This barn, which is in part renovated, contains the rooms which have retained their original magnificent architectural features.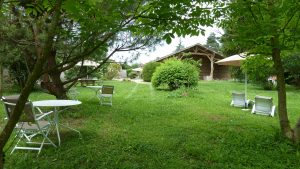 The rooms overlook a wooded park of more than 7000 m2 bordering the River Lot where you can stroll to your leisure discovering the ornamental trees, orchards and wildlife.
| | |
| --- | --- |
| Input guest rooms | Patio |
You can reach the river, via a private road running through the park. You can relax under the shade of the tree or fish. It is in this special place, that you will discover a waterfall that empties into the Lot…
… And for the cooler evenings, a warm fireplace awaits you in our living room.
The waterfall
Cascade of Hauterive, beds & breakfasts in Lot et Garonne, owes its name to the petrifying waterfall located on the property.
Although modest, the waterfall of Hauterive is one of few waterfalls along the Lot. The water travels from the top of the property by stairs naturally formed basins to flow into the Lot.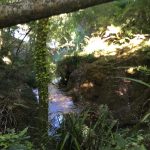 Only guest rooms accessed by a private road, at this wonderful place.
Short walk in a cool, shaded environment, concealed by one thick foliage of a humble forest, you will walk up to the edge of the Lot, between Villeneuve sur Lot and Sainte Livrade.
the park
Quiet in the park of La Cascade, bed and breakfast in Lot et Garonne
Arriving at Hauterive, village near Villeneuve sur Lot, Sainte Livrade et Casseeuil, you will be surprised to discover the Cascade de Hauterive, guest houses, and planted park.
This place calls for rest, tranquility. This is our luxury we offer to our guests.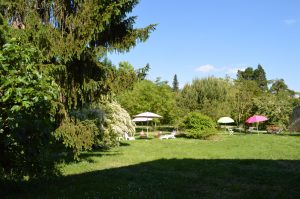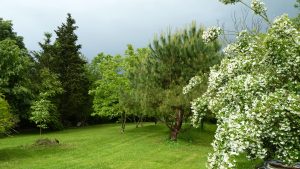 To start the day, breakfast is served on the terrace. What enjoy the first rays of the sun!
At any time of the day, you can relax on the sun loungers here and there in the park, enjoy a refreshing drink.
Come and take the time to live in our guest houses, enjoy this wonderful place, relax in the heart of the greenery along the Lot.