The table d'hôte of the Cascade de Hauterive near Villeneuve sur Lot
We offer a hearty menu, prepared from local produce that has been sourced from farmers in the valley of Lot, and the immediate neighbouring areas, who specialize in organic agriculture and ethical animal husbandry.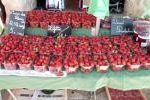 Breakfast and dinner are served on the terrace or in the dining room according to the seasons
The evening meal
For the dinner, you can enjoy simple country dishes prepared from fragrant local produce. Regional specialities such as rillettes de canard, magret séché, parmentier au confit de canard, cassoulet au confit de canard, douceurs aux pruneaux or douceurs aux noisettes.
Authentic traditional dishes that have been revised with our personal touch.
The menu consists of a first plate, a main course and a dessert or an artisanal   cheese selection.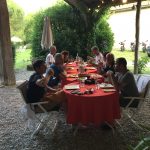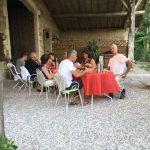 A selection of regional  wines
Our table also offers a selection of regional (and other) wines.
Discover the wines of southwest like Côte de Duras, Buzet, Côte du Marmandais, Bergerac, Cahors, wines of the Landes department, or the famous Bordeaux wines.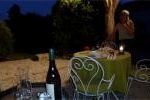 The breakfast
For the continental breakfast, we offer hot drinks, fruit juices, yoghurt, bread and pastries and homemade jams.
This is included in the room price